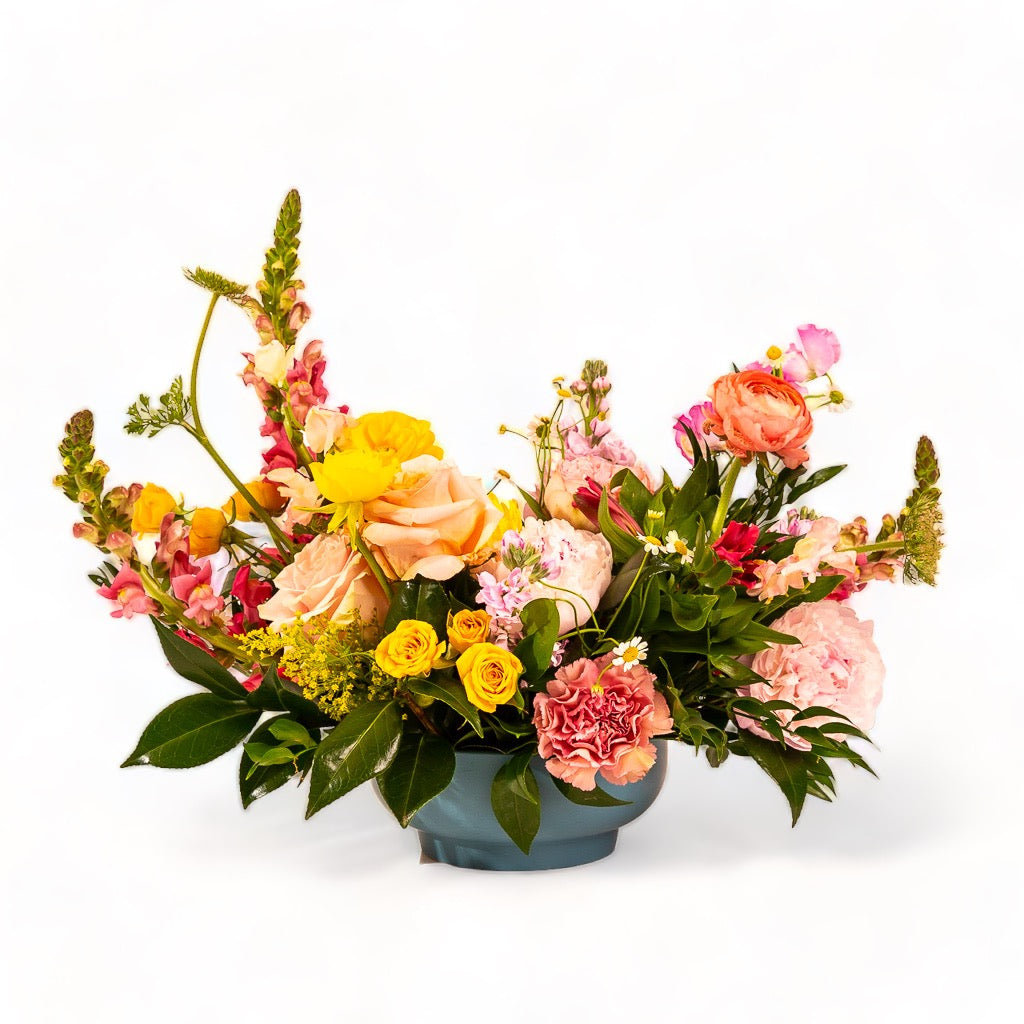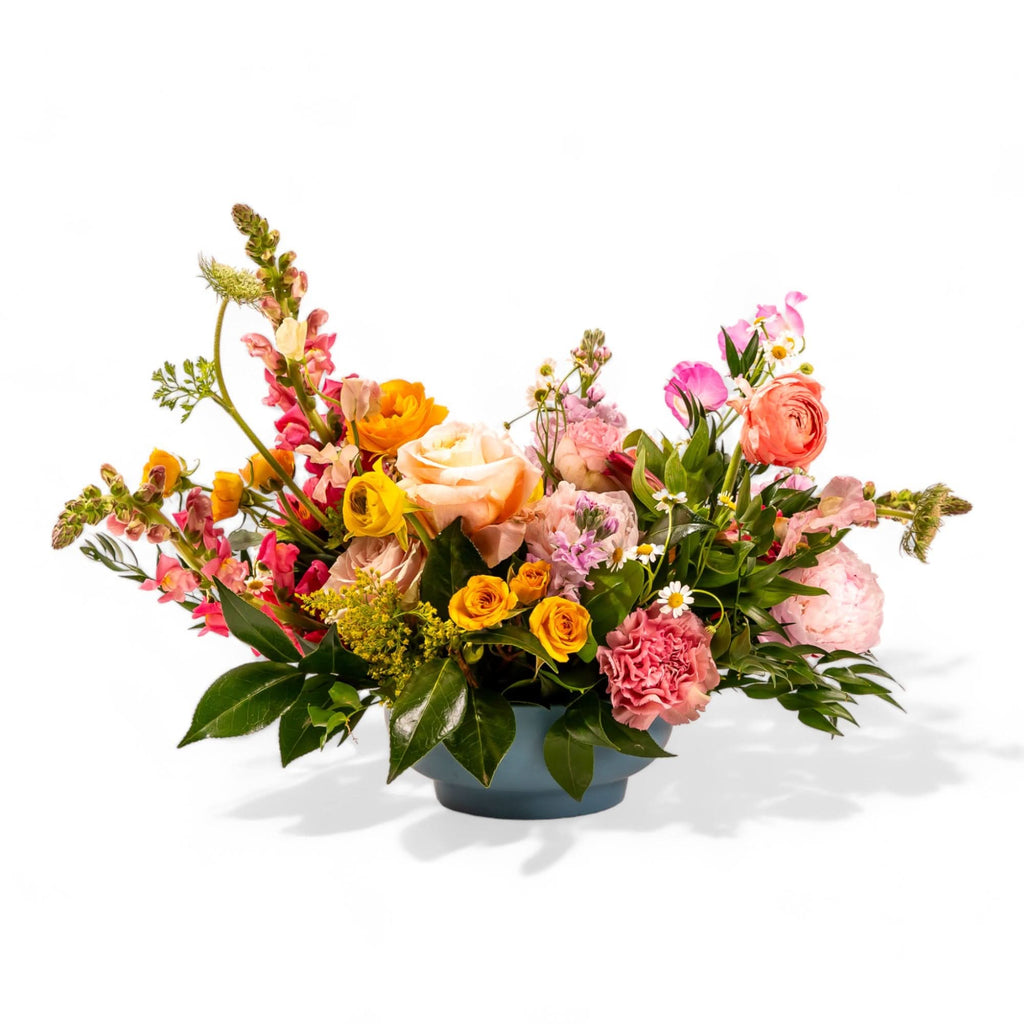 Garden Party Designer Floral
Celebrate the spirit of "Family. Friends. Fun." this Thanksgiving with our Garden Party Designer Floral centerpiece. This enchanting arrangement is a vibrant tribute to the heartwarming gatherings of loved ones, where laughter and stories are shared around the table. Featuring a delightful mix of dusty pastels in shades of pink, orange, and yellow, it perfectly captures the essence of autumn's joy and the festive atmosphere of Thanksgiving.

Fresh blooms like peonies, roses, ranunculus, snapdragons, and pink carnations come together in this exquisite arrangement, creating a perfect harmony of spring and summer cheer amid the fall festivities. Whether it's a family reunion, a get-together with friends, or a fun-filled dinner party, this floral centerpiece will be the focal point of your celebration, embodying the happiness of being surrounded by those we cherish.

Elegantly presented in a low-profile porcelain Antique teal pedestal bowl from Momma Pots, the Garden Party Designer Floral is more than a decoration; it's a symbol of the joy and warmth that family, friends, and fun bring to our lives, especially during the holidays.

Pair this stunning centerpiece with the perfect card from our collection, and have us deliver it to your doorstep. Let the Garden Party Designer Floral be a beautiful reminder of the love and laughter that fill your home this Thanksgiving.
Light pink peonies, yellow, pink, peach, and pink garden roses, - pink snapdragons, peachy pink ranunculus, dark pink alstroemeria, fragrant sweet peas, yellow mums, and pink carnations accented with Chamomile, camelia, and Ruscus foliages.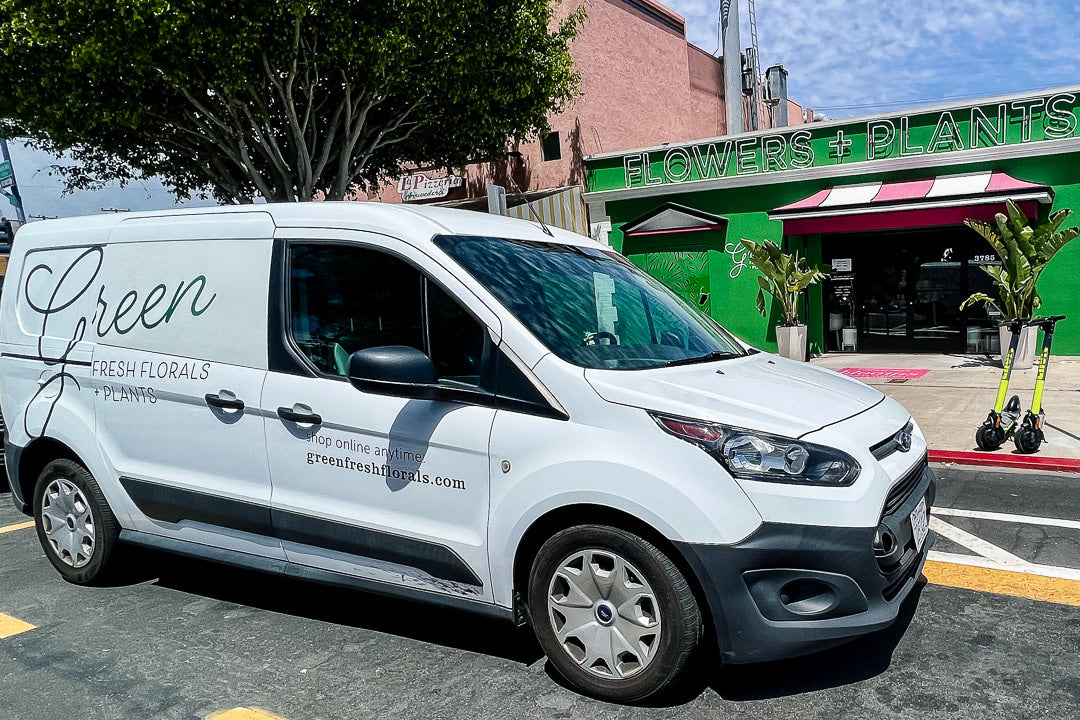 We Deliver!
Let Us Deliver For You!
Have our professional drivers hand deliver your order for you.
Delivery Info
Super gorgeous. Love all of their arrangements. Deliveries always on time.
Absolutely gorgeous. Green always delivers.